Mirren, Mamet, Hausman, Pacino-Some Behind the Scenes Photos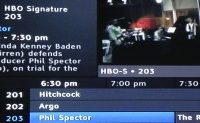 Behind the Scenes at the The HBO Wrap Party

Helen Mirren, Linda and her husband Dr. Michael Baden


Dr. Michael Baden, Linda, Helen Mirren and David Mamet
The HBO Wrap Party

Linda with the the most gracious Al Pacino and the wonderful Len Amato of HBO.


David Mamet, Dame Helen Mirren and Linda Sharing the Stage at the Television Critics Association


Here is Helen Mirren wearing the real glasses Linda wore at the trial- my CHROME HEARTS reading glasses.


Mike Hausman, the great producer, and Linda in the lobby of HBO.


David Mamet, Helen Mirren and Linda at the TCA convention.


Time Warner's Guide to the movie. My husband couldn't resist taking this screenshot.