Linda Discussed #Ericgarner on CNN/Brooke Baldwin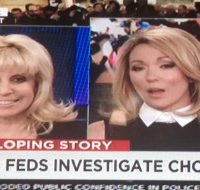 On Thursday December 4, 2014 I appeared on CNN to discuss the tragic death of Eric Garner.
The host was be Brooke Baldwin. My appearance time was between 3 p.m. and 4 p.m. EST.
Having represented many a victim and victim's families in police excessive force cases, I will be discussing where the family goes from here.
As many of you know, one of my areas of concentration is litigating civil rights cases under 42 U.S.C. 1983, a federal statute. From the New Jersey Turnpike Four and other high profile cases involving racial profiling and/or death from lethal force, these cases are gut wrenching. Here is an old article and a small glimpse of a photo from a press conference regarding the Turnpike Four with the late Johnnie Cochran, Esq.