Helen Mirren Nominated for SAG Award & Golden Globe. Bette Midler to Play Mae West.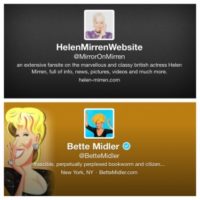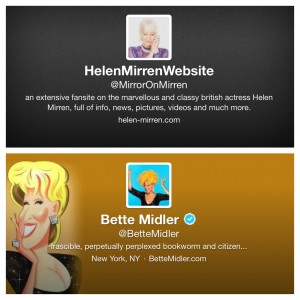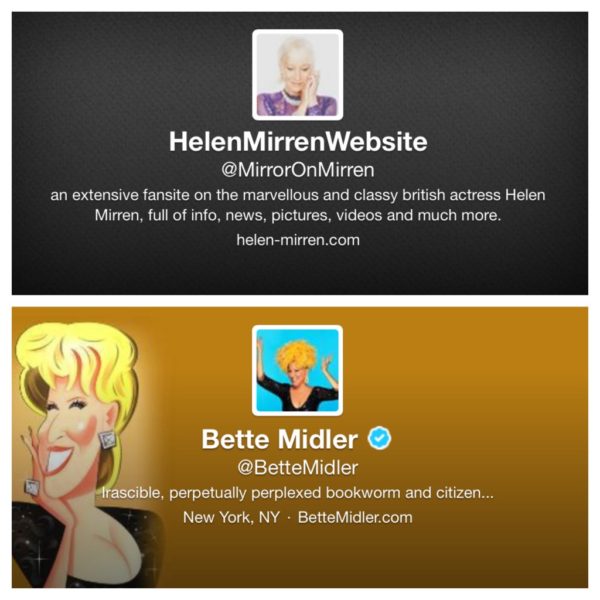 Follow both Helen Mirren and Bette Midler on Twitter: Twitter Photo Composite Courtesy Helen Mirren and Bette Midler
Two media related hits caused some excitement two days in a row. First, it is so terrific to get the news that Dame Helen Mirren was nominated for a Screen Actors Guild Award for her performance in the HBO Phil Spector Movie. But it is also a bit disconcerting to read your name. It's like a little bit of an out of body experience – you are you – or are you – you? Here is how it looks on the awards site (emphasis supplied of course):
Outstanding Performance by a Female Actor in a Television Movie or Miniseries
ANGELA BASSETT / Coretta Scott King – "BETTY & CORETTA" (Lifetime)
HELENA BONHAM CARTER / Elizabeth Taylor – "BURTON AND TAYLOR" (BBC America)
HOLLY HUNTER / G.J. – "TOP OF THE LAKE" (Sundance Channel)
HELEN MIRREN / Linda Kenney Baden – "PHIL SPECTOR" (HBO)
ELISABETH MOSS / Robin Griffin – "TOP OF THE LAKE" (Sundance Channel)
On the same day the SAG nominations were an announced the NY Post published an article mentioning how the fab Bette Midler is going to play Mae West in an HBO Biopic. HBO movies, headed by Len Amato, is a wonderful, forward thinking, and fearless organization. The article then went on to say:
She was also originally slated to play Phil Spector's attorney, Linda Kenney Baden, opposite Al Pacino in an HBO film that aired last year. A medical problem prevented her from going through with the project and she was replaced by Helen Mirren.
Then, the very next day Dame Mirren received a Golden Globe nomination for the same performance.
She is so gracious that she publicly thanks me. It is I who should thank her for having the opportunity to meet her.
Helen Mirren, nominated for Best Actress in a TV Movie for "Phil Spector," said, "This is a very proud moment for me. I would like to thank the HFPA for this nomination and as well as recognizing Al Pacino, Linda Kenney Baden, and David Mamet, all of whom were very instrumental in participation in this project."
Both actors are also wonderful people. It has been my pleasure to meet them.